Back to all posts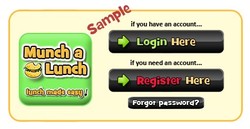 Mother Teresa School
Hot Lunch / Snack Program
Upcoming Lunch Dates:
Tuesday, January 8th - Boston Pizza
Tuesday, January 29th - Booster Juice and Pita Pit
If you would like to order any of the hot lunches or snacks please visit our school website and click on the Munch – A –Lunch link to register your child(ren)
You can pay for your orders online by credit card (Visa/Mastercard) OR cash (please note exact dollar amount must be given as no change is provided).
HOW TO REGISTER:
Click the "Register Here" button (as shown below). The system will guide you through
After adding your children, click the green "Order Lunch!" button to order
Next time, just click the "Login Here" button to access your account.